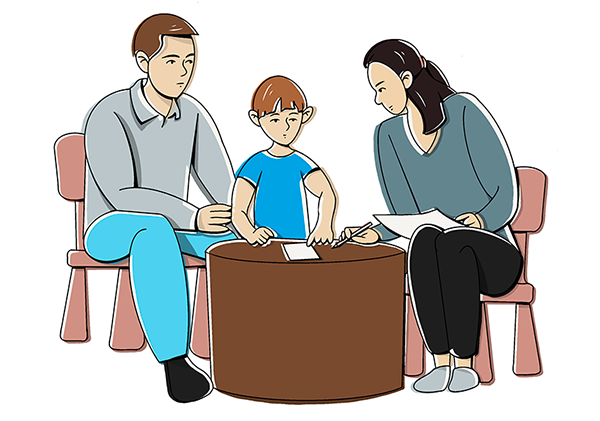 What happens in a session?
We see families in a quiet, private room. When you come in, we will sit down together, and we will ask you some questions to find out more about your family and what you would like to come and think about. These questions will include finding out more about your wider family, what happens at home and how your family functions day to day. There will be questions about any problems and how you are managing them at the moment. This will include getting details about home, school, nursery or any other settings where your child goes. This will be a time to talk about the reasons you have come to see us and any hopes or wishes you have for the work we might do together. It is the time for us to listen to what you have to say.
We will think together about what might help and develop a plan for any future work. Sometimes our plan will be to meet one or two more times so that we can get to know you all and develop an understanding of what is happening and how we might help. We might then plan to meet for a number of sessions so that we can offer some structured therapy or a space for us to talk and think about the difficulties. Our plan will depend on the ages of everyone in the family, the problem you have come with and what you are looking for.
Children's sessions are always tailored to the age(s) of the children and are very active. For example, sessions might include therapeutic approaches like these:
Developing an awareness of different feelings through a 'treasure hunt' to find hidden feeling words in the room
Playing a game with a second meaning to develop an understanding of a specific point (for example a matching game to develop an understanding of the link between feelings and behaviour)
Talking through something difficult which happened that week – and 'mapping' out the problem on a large sheet of flip-chart paper
Drawing to represent a strong emotion (e.g. drawing 'the angry monster')
Role play
Thinking back to a time when things have gone well to find exceptions to the dominant story when things are going wrong
Doing a family challenge to think about the perspectives of each member of the family
Talking with parents about their concerns for their child
……And many other techniques, strategies and ways of working together –there are too many to write them all down. Please do ask us if you want to find out more or have specific ideas about what will help your child to engage. Be reassured that helping a child or young person to feel comfortable and use the sessions is our primary aim and we work hard to engage all young people.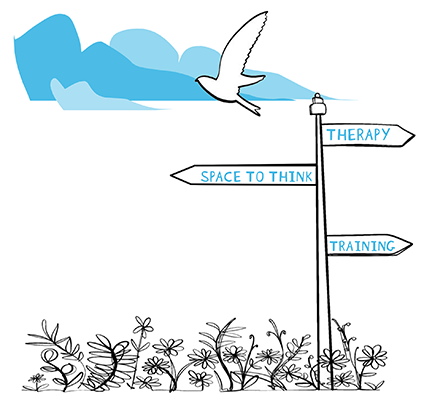 Therapeutic Approaches – what kind of therapy will I be offered at Headspace Guildford?
We draw from a number of therapy models in our work and offer a therapy which is a mixture of talking and doing activities. We always hold in mind that a problem is often complex and we aim to help families to think about problems as an interaction between lots of factors, rather than just something inherently wrong with the child. This is called systemic thinking (because it sees problems as coming from and related to a whole system).
You may have heard of Cognitive Behaviour Therapy (CBT) and we offer this both as a discrete therapy (usually 12 sessions long, and usually to help with specific difficulties such as anxiety, fears, phobias, low mood or depression) and we use tools from CBT in more general work. CBT is a short-term talking therapy. We also use Solution Focused Therapy, Narrative therapy, Motivational Interviewing, Narrative Exposure Therapy and other models. We often include tools or ideas from Schema therapy, mindfulness, Interpersonal Therapy and Acceptance and Commitment Therapy.
The type of therapy we offer depends on the difficulties and your family. Different methods and ideas work for different people. We can talk about what kind of therapy would be most helpful and what it would involve when we meet. You can talk about what is important to you and we can develop a plan together.
Confidentiality
What is said in sessions is confidential and we will not share what we talk about with anyone other than our supervisor. The exception to this is that if we hear anything which makes us concerned about the safety of you or anyone else we will need to share this information with the relevant people to ensure everyone is protected. Where we can, we will always talk to you before sharing any information.