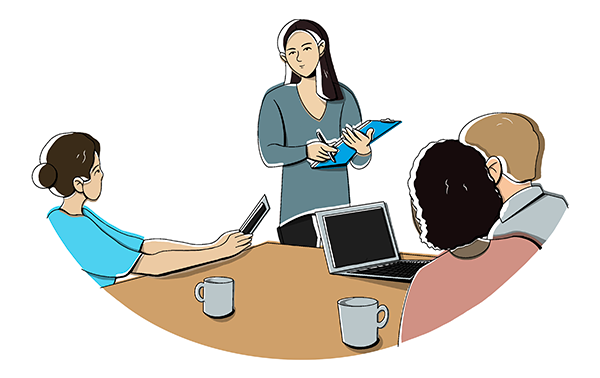 We are qualified and experienced in delivering training and regularly run training for schools, medical staff, parents, charity groups and many others.
Recent training topics have included:
Supporting children during and after Covid-19
Supporting parents during the pandemic
Psychological first aid – the evidence-based approach to coping with and responding to a crisis
'Full teapots and functioning brains' – Staff well-being in a complicated world
'Getting through it' – looking after your well-being and supporting your team
Understanding grief and bereavement
Finding a way to a 'new normal'
Supporting children with health conditions
And some that we regularly train on:
The impact of emotional well-being on learning
Supporting children with their wellbeing/mental health
Self harm
Anxiety and low mood
SENCO training on supporting children with mental health difficulties
School refusal/anxiety
Using CBT techniques to support young people
Managing children's behaviour
Emotional well being/mental health
What is mental health?/Mental Health awareness
Psychosis
Diversity, equal opportunities and discrimination
Managing change
Sessions range from 2 hours to all day/multiple day events.
Training can be designed to specifically meet the needs of your team or staff. We regularly run INSET sessions and days in schools, healthcare settings, voluntary organisations and others.
If you would be interested in training please email me (psychologyheadspaceguildford@gmail.com) to discuss this in more detail. All our sessions are bespoke and adaptable to meet the needs of your team or audience.
Here are some comments from training sessions I have run recently (2019 & 2020):
Thank you so much for your enthusiastic session last night, it was amazing! You had the whole room captivated for two and a half hours and we all learnt a tremendous amount about Mental Health. Your students and patients are very lucky to have you.
Thank you for arranging the training. It was a really great session and Ellie was incredibly interesting and engaging. Makes me want to enrol to do a psychology degree!
I had seen Ellie before but thought she was so interesting that I decided to go along for a second time. Last night's session was just as valuable and thought- provoking as the previous one. I will really look forward to hearing Ellie speak on self harm.
A brief line to say well done and thank you for securing Ellie for yesterday's training. I have heard her once before a thousand years ago, but yesterday she was brilliant: intelligible to even this bear of small brain; and highly relevant as well.
The training it was all very interesting and Ellie a brilliant speaker. Such a complicated subject but so important to us. Well done.
Just wanted to say how brilliant I thought Ellie was. So easy to listen to and so informative. Thank you so much for organising it.
Thank you for arranging this training, it was really informative and thought-provoking, and Ellie is an inspiring speaker and full of enthusiasm. A great evening.
I couldn't sleep as she gave us so much valuable information! She is quite an amazing and inspirational young woman. I am most certainly interested in her next presentation.
I just wanted to send you and Ellie my warmest wishes and thanks for such a helpful, informative and inspiring session yesterday. I don't think I had attended any of Ellie's training before, and I was blown away by her passion and insight.

Mental health issues are very close to my heart and have been for a very long time, as I am the daughter and long term carer of a sufferer. Ellie's no-nonsense but compassionate approach made so much sense to me, and I felt rejuvenated after a long and tedious day at work. Please pass on my thanks to her.